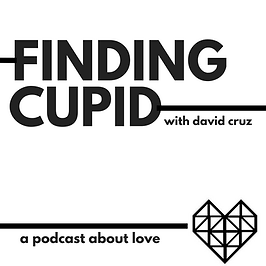 "Finding Cupid Radio is a show about our adventures in love."

​WHAT IS FINDING CUPID RADIO?​
​
​Finding Cupid Radio is a modern-day guide to surviving the dating world and life in general.
​
Hosted by David Cruz, Author of the blog Finding Cupid, David, and his guests help you navigate through the slips and spills of love, dating, and relationships.

Joined by Team Cupid, David and the team entertain, provoke and discuss all that is happening with love in Hollywood, the world, and your bedroom!
​
The show also explores how to be a better person in life regardless of relationship status. At Finding Cupid Radio, we believe that love isn't simply about dating, but also about being a better human being.
​
Join Finding Cupid as they interview celebrity guests, dating experts, matchmakers, and friends about what it means to be better at the long-forgotten art of Love. ​
Subscribe to our free podcast on iTunes and YouTube for all the latest updates.

To listen to our shows, click on any of the icons to the left!
REJOICE! FINDING CUPID RADIO REUNITES FOR VDAY
TO WATCH MORE EPISODES HEAD TO OUR YOUTUBE PAGE: HERE
It's been almost 5 years since David and the Finding Cupid Team were last together to chat about dating. They left the world as dating apps were fizzling and things seemed, well, blah. Enter 2022, and the team has their hands full with everything from marriage and new relationships to being single during COVID and Video Dating.
Welcome back to Finding Cupid.