Moods of Norway

Lord Wallington

Creative Recreation

ODIN

TOMS

JCrew

C+C Lifestyles

Beau Ties

DALYS 1895

Pacific Shaving Co.
for him...
This year, I wanted to find gifts that represented the modern mans style. Gifts that he could get for Valentine's Day, but wear for every day after.
Gifting doesn't have to be over the top, it just has to be cool. Here are a few of my new favorite finds that are a little bit of both!
Moods of Norway

"Stein Tonning" Jacket $299.50

Creative Recreation

"Adonis" $75

Black Croc Stamped High Top

C+C Lifestyles Watch

The Meraki Series, $650

In Silver & Cognac

JCrew Windbreaker

Nylon, $168

Burnished Rust

ODIN New York "Owari" Candle

Notes of Madarin & Crushed Grapfruit leaves, $70

Lord Wallington Bow Tie

Black Classic , $75

Satin

Handmade in San Diego

Beau Ties

Balendin Heart Bow Tie $40

Hand made in Vermont

DALYS 1895

The Troubadour Day Bag!$1620

Handcrafted in Italy

For the man who has it all!

TOMS Sunglasses

"Memphis" 201, $139

Black Tortoise fade

Pacific Shaving Company

Shaving & After Shave gift set

Caffienated

$15.99
To shop any of these products, click on the link in the photos above!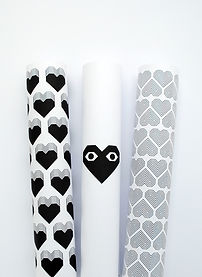 *Cupid Gift Wraping Tip:
Surprising your main man with a fun gift is just half the fun! Don't forget to really make a statement with fun gift wrap!
I like to wrap with modern patterns and vibrant ribbon colors! Check out this cool PRINTABLE gift wrap I found on Minieco. SO SUPER COOL!
Pair with BRIGHT NEON pink or simple red to add a perfect pop of color!
Click here to print this free VDay Paper!