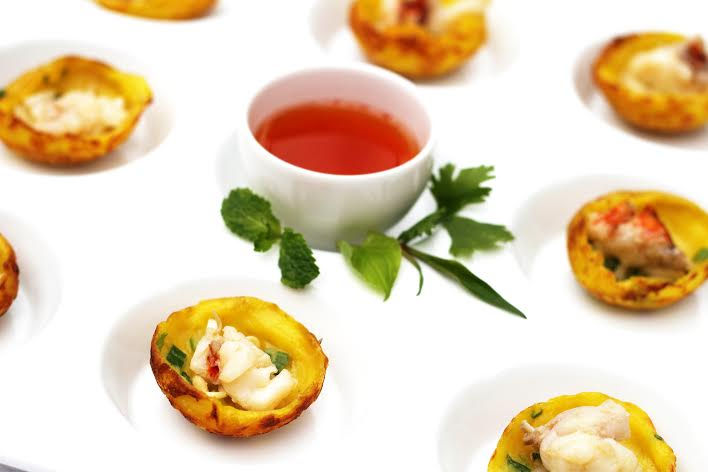 By Chef Leyna Doan
Say farewell to 2014 and HELLO 2015 with these sparkly, elegant and super easy "Lobster Champagne Crepes!"
These appetizers are perfect for a romantic night for two or a partyf of ten! They are the perfect compliment to the many glasses of champagne you'll be drinking on New Years Eve!
"Besides how cute you look in your New Years Eve outfit, these appetizers that will surely be the talk of the night!"
Now, garlic may not be an ideal situation for kissing your sweetheart at midnight, but these appetizers are an exception to the rule! Feel free to use less or eliminate the garlic ingredient all together, it is totally OK! The champagne bubbles in the crepes will surely tickle your taste buds!
Happy eating and Happy New Years everyone!
INGREDIENTS:
1 ¼ Cup rice flour
2 Tblsp cornstarch
1 400ml can coconut milk
1 Cup iced water
¼ Cup champagne
2 Tblspn ground turmeric
1 Tblspn sugar
½ Tblspn salt
2 Lb lobster (1/2 cube), lightly season with salt
2 Shallots (thinly sliced)
2 Cups bean sprouts, cooked, rough chop
Fresh mint leaves

Fish Herbs

Vietnamese Coriander

Kosher Salt, as needed

Olive oil, as needed
DIPPING SAUCE
6 Tablespoon simple syrup

2 Tablespoon fish sauce

2 teaspoon lime juice (fresh)

1 ea garlic (minced)

1 ea thai chili pepper (finely chopped)

1 teaspoon sambal chili sauce
To make the dipping sauce, combine all the ingredients and set aside.
Batter:
Whisk the flour, cornstarch, coconut milk, water, champagne, turmeric, sugar and salt in a medium bowl. Cover and place in the fridge overnight to rest.
note: If you don't have overnight, just allow batter to rest at minimum two to four hours.
Cook:
Heat a non-stick mini pancake pan over medium heat. Add 1 tablespoon of oil to each pod and heat until just smoking. Stir-fry the shallots and lobster 30 seconds.
Ladle in the 3⁄4 oz of crepe batter into the pods and swirl it around to create a thin shell. Cook till the shell is golden and crispy. Use a lid to cook the top if necessary to cook the inside. Add cooked sprouts and continue to cook for another minute. Transfer to a plate. Serve immediately with preferred various herbs and dipping sauce.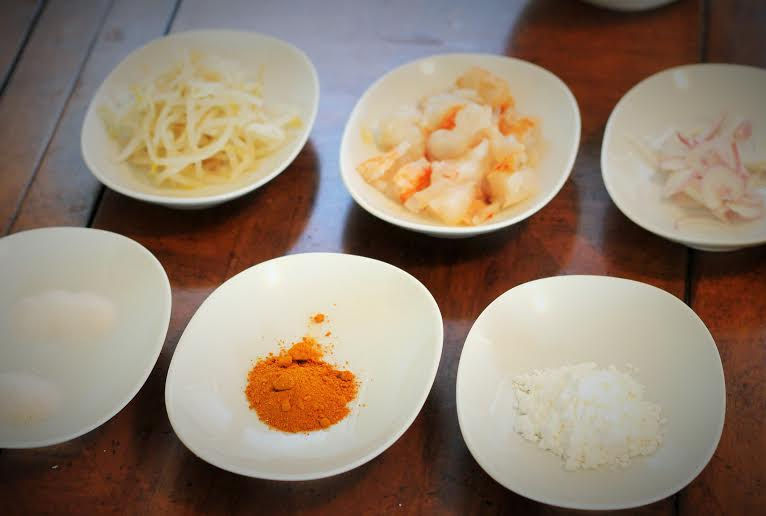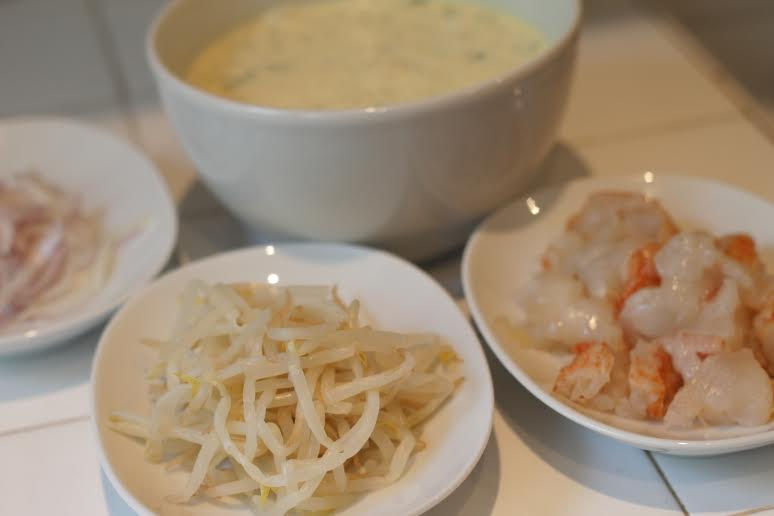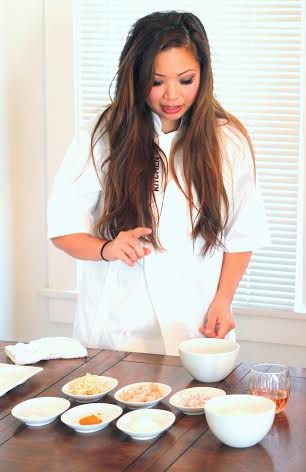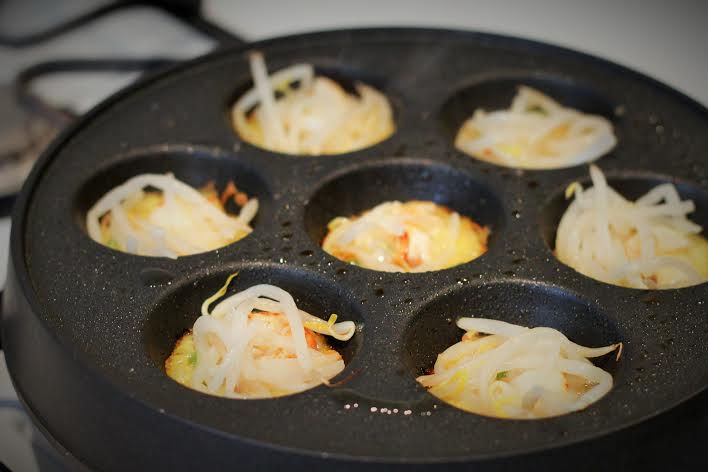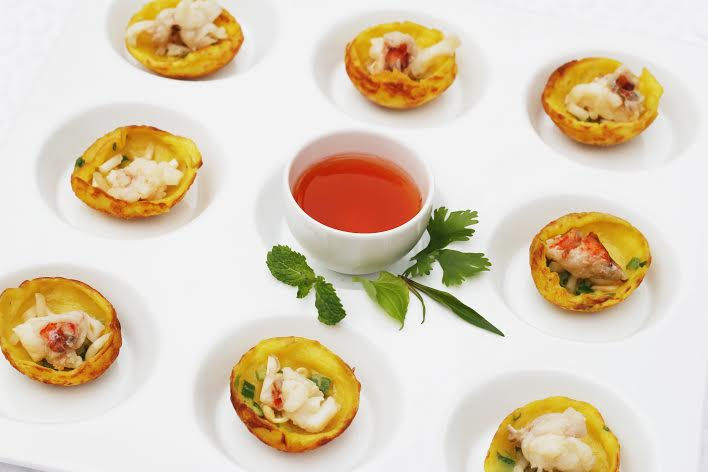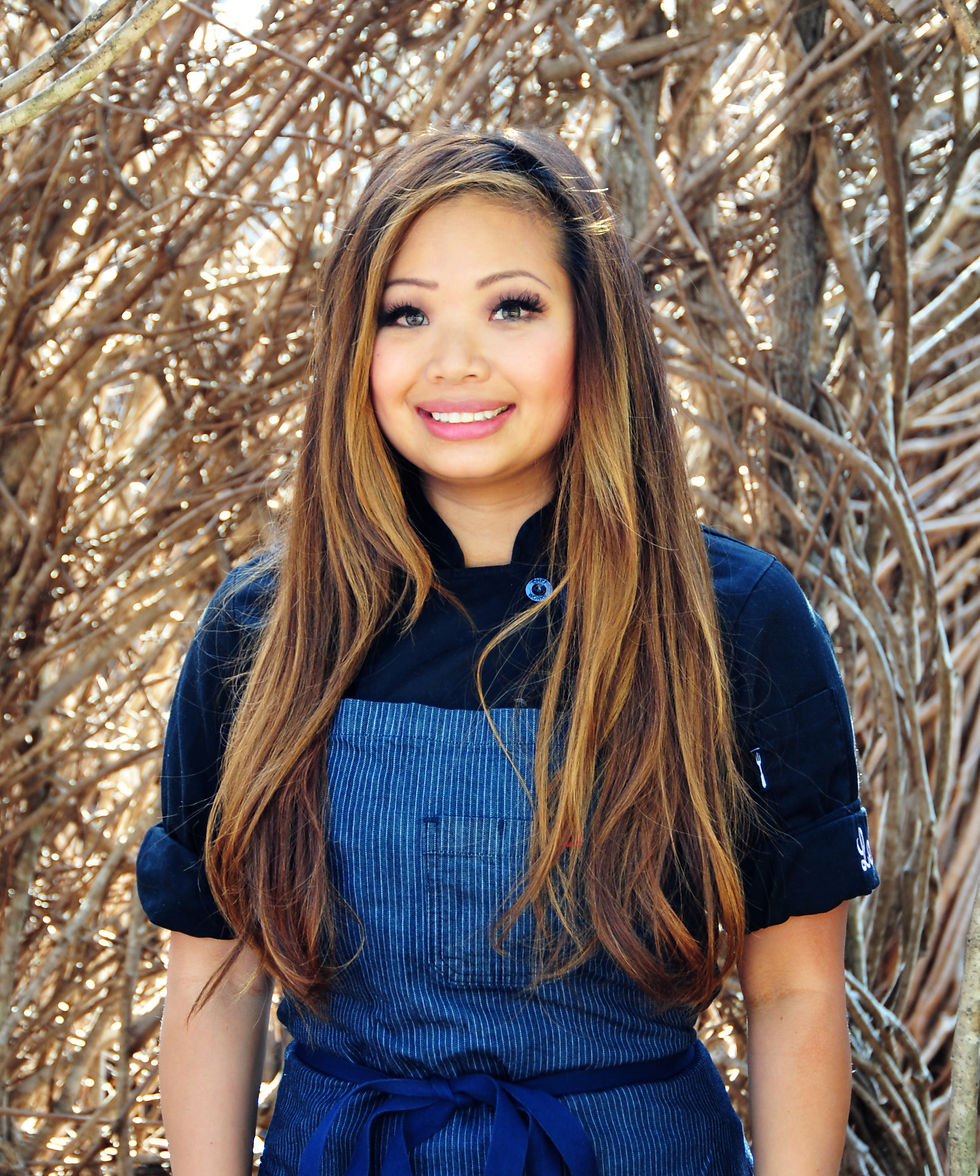 Leyna Doan, Chef
Leyna began her professional training at the world renown Le Cordon Bleu Culinary Art School, specializing in cuisine. While attending school, Leyna was asked to compete on Food Network's Cupcake Wars where she introduced liquid nitrogen to the cupcake industry. Leyna, now in her own professional kitchen, is combining her passion in both sweets and savory to create the most unique and extraordinary "Leyna's Kitchen" experience.