One Reality TV Show.
3 Life Lessons.
Going on a Reality TV show brought to light 3 realizations in my life.
#1. Despite what I've been telling myself, I'm actually open to falling in love.
#2. The moments where you take risks, face your fears, and even dare to look stupid are actually the moments that make up the book of your life.
#3. Apparently, I'll do just about anything for my brand, Bare Organic Mixers.
Let's rewind a bit…
I used to be fascinated with reality TV. I remember the first time I ever watched an episode of a reality TV show. It was one of the first seasons of The Bachelor. I was completely enamored with Andrew Firestone's fantasy dates and his final roses. The entertaining drama was part of the appeal, but even more so, I was fascinated by how the show was actually created.
I was also intrigued by the people who capitalized on their newfound fan base and introduced their own products and services to the audience. I always thought it was a clever business move, and I loved watching how each would present their product in a different way. It seemed like a unique way to generate brand awareness, and I had this gut feeling that eventually, I'd be able to do the same with my product, Bare Organic Mixers.
As I'm sure most reality tv viewers do at one point or another, I played the game of "Which reality show would you go on?" Survivor was a no-go because I don't really enjoy trying to survive in nature, and I'm not competitive. I wasn't married or rich or even pretending to be rich, so Real Housewives wasn't going to cut it, and I couldn't sing, so American Idol wasn't in the cards either. I realized pretty quickly that I probably wasn't a fit for any of them. And, I made a pretty bold statement at one point that I would most definitely NEVER go on any of the dating shows.
The universe has a funny way of testing how strong your convictions actually are when you make an "always" or "never" statement. A few months later, I was given the opportunity to be a contestant on The Millionaire Matchmaker. They chose me because they thought I'd be a possible good match because I lived in the same town, and I was in the same industry as that week's millionaire, a former contestant on The Bachelorette. It seemed they would even allow me to bring my product to the set if I wanted to offer it to the crew, and they said I might get an opportunity to talk about it because I was in the same industry as bachelor.
The risk seemed to outweigh the reward in this situation, but yet I still tortured myself about it for days. My ego was completely clouding my decision-making skills. I wasn't prepared to go on national television. I certainly wasn't prepared to go on TV framed as a "30 year old single business woman looking for love." I was inundated with insecurities about how I would look, what people would think, and I worried that the whole thing would be a waste of time if I never got to utter the words, "Bare Mixers."
I had 6 days until filming, and I spent the next 3 of those doing what I usually do best when I have a big decision to make. I called everyone I love and trust to weigh the pros and cons, I stopped eating, I barely slept, and I might have even shed a tear or two. I was scared, nervous, excited, and in a little in awe of the universe and how it simultaneously pulls s*** together and throws me massive curve balls.
Have You Ever Considered the Love Part?
My mentor, someone who has coached me in business and in life for 5 years cut me off in the middle of weighing my options and said, "Natalie. Stop. I just have one question. Have you challenged yourself to do this already? Because if you have, we all know you're going to do it, so let's stop pretending you're trying to make a decision, and let's start planning what you're going to wear."
She was right. When I challenge myself to do something, I have to do it. I have to go on the scary roller coaster, or start the business, or move across the country. It's how I roll. I don't know any other way. I also have to torture myself in the so-called decision making process along the way. The only good thing about this particular self-inflicted torture phase was I hadn't eaten in 3 days, so I was all set to look skinny on camera.
My mentor closed the call with one other point that I'll never forget. She said, "Natalie, did you ever stop to consider that you might actually like the guy? I know you were initially open to this for the learning experience and the chance to mention Bare, but did you ever actually consider the possibility of finding love?"
I was so wrapped up in the possible negative outcomes that I never stopped to take a moment and consider the fact that something awesome could come out of this experience that had absolutely nothing to do with my business.
I made a promise to myself that I would be open to engaging in what the show was actually intended for. If I was going to participate, I had to be genuine. I had to be open to finding love. This was an interesting revelation for me.
"I had been out of my last relationship for over a year. It was an awful break up, and while I was partaking in a pretty amazing dating life, my heart was closed off to any real serious prospects. I was having a lot of fun, but I wasn't open to finding real love at all."
This moment of truth made me realize that I might finally be ready to fall in love again.
So, in the final hour of my allotted window to tell them yes or no, I picked up the phone and said "yes." I was going to be on a reality tv show, and I was going to take Bare with me.
Love Realizations
So, while I did challenge myself to go on set with an open mind and heart, there was no actual love connection. That was okay because the realization that came to me was more valuable in this moment.
When we had to introduce ourselves, Patti asked me to tell the millionaire about myself.
I didn't really have a ton of time to overthink it, so I just simply said, "I've been working like a crazy person for 7 years, and I'm finally ready to find someone who makes me want to put my computer down. I'm open to finding love. Does that sound too forward?" I heard a few people laugh at my candid answer laced with a little self-deprecation, something I tend to do fairly well. Patti moved onto the next girl.
Meanwhile, I was lost in thought at how honest I had just been in front of all those people and a potential audience of 2 million.
Despite what people think about reality tv, I was actually being completely real and genuine here. This moment was real, all of this was real.
There's something about saying a bold statement like that out loud. I had spoken my truth, and I felt good about it. If nothing else came of this crazy experience, that realization alone was worth the trip.
After all was said and done, I left the set proud of myself and bare for at least showing up, and I left the rest of the outcome up to the universe.
Life's Little Conclusions…
Being on a reality tv show, whether its for 2 minutes or a whole season is just about one of the ballsiest (yes, I made up that word) things you can do in 2015 if you care at all about what people think of you as a person and as a businesswoman. You have little control over what happens on set, and you have zero control over what ends up on TV. You have to accept that it's a good life story, and you have to be comfortable with the fact that it may or may not work out in your favor.
"This experience exemplifies most scary, risky opportunities in life. You often have no idea how things will play out, but you commit to doing them anyway, and you hope for the best. And, that's just what I did."
And in taking that risk, I came to the most valuable realization of them all. My honest, vulnerable, off the cuff answer to Patti's question brought to light what I'm actually looking for in life. I went through an awful break awhile ago, and as a result, I spent the last year and a half going on dates with incredible men, many of whom were ready and open to the possibilities of a relationship. But, I was completely disinterested in taking anything to the next level. The men were not the issue. I was. This true statement that I revealed on set in front of all those people made me see that I'm no longer in that place.
I mean if telling 2 million people on a reality show that you're open to finding love doesn't spread that word, I don't know what will. Turns out I am the "30 year old single girl looking for love," and I'm actually just fine with that.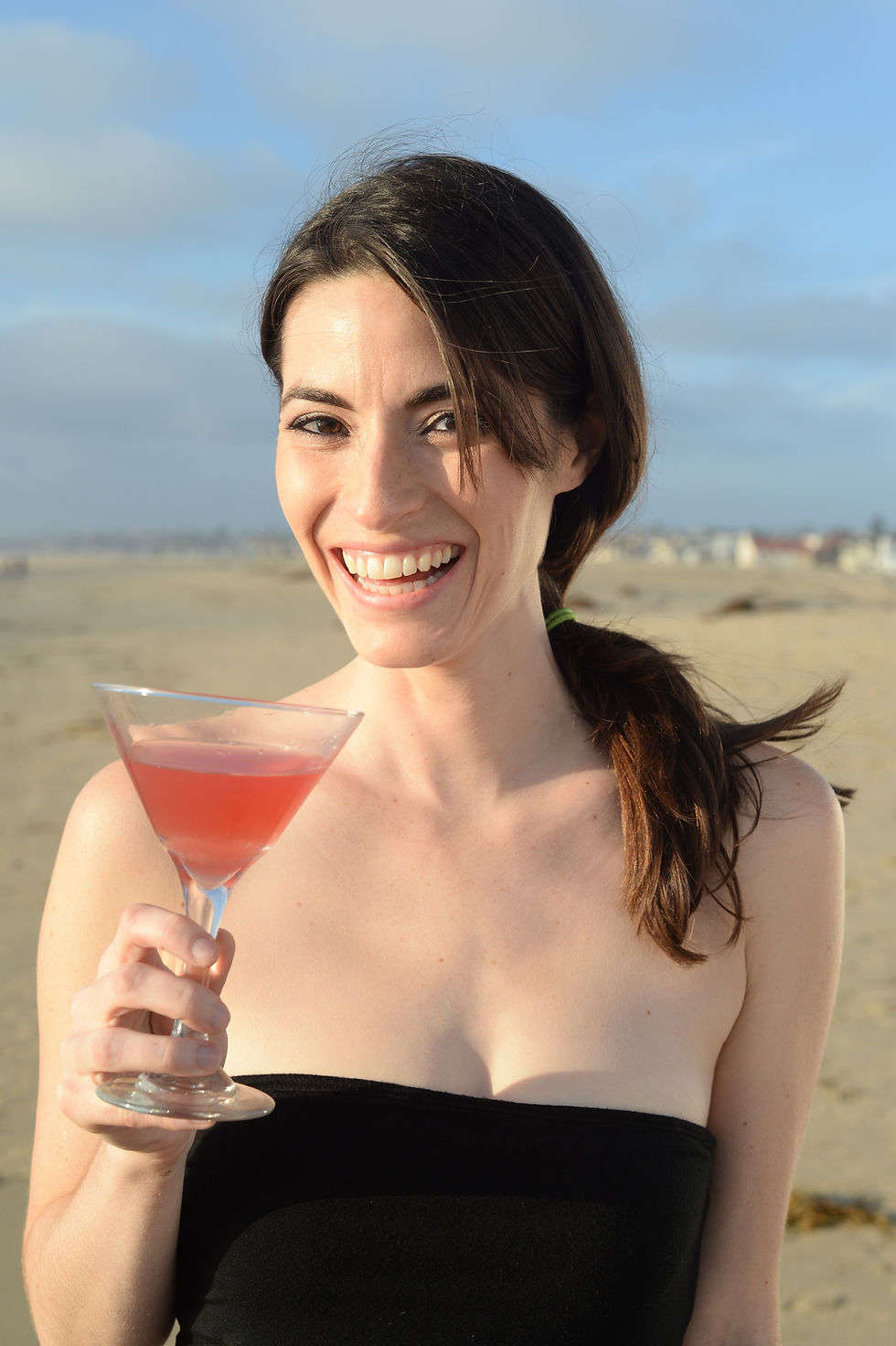 Natalie Susi
Founder of Bare Organic Mixers, Natalie is a 30 year old, single entrepreneur who is simultaneously building a brand, writing a book, and still trying to make quality time to date quality men. Her blog titled, "The Business & Love" will follow her dating adventures one cocktail at a time as she begins to put love first and business second.