How It All Started...
It had been almost 20 years since I left the tiny island of Guam, and headed to California. Three days after I graduated from my high school, I hopped on a plane and never looked back.
Needless to say, I was eager to start a new chapter in my life.
I spent the last 20 years on a journey of self discovery in my career, love and life. There were many times when I would think back to my childhood home on Guam and wondered when I would be able to take to the time to visit again. Between schedule conflicts and work, I just could never make the time to plan a sollid trip back.
Then something amazing happened.
It was just shy of a month ago that I made a video to show my support for the LGBTQ Community of Guam. They were currently struggling to exercise thier legal right to marry, and as someone who stood for love and marriage equality, I couldn't just sit back and let that happen. Especially being a son of Guam.
Well, the video went viral and the local and national press took wind of it and before I knew it, I had become an advocate and a voice for the LGBTQ Community on Guam.
A few weeks later, I received a phone call from the President of The University of Guam inviting me to speak at this years Commencement Ceremony.
I was speechless.
Even more exciting to hear, was that there was a second speaker to the commencement ceremony, Jim Obergefell. For those who do not know him, his case (Obergefell v. Hodges) is currently before the Supreme Court of the United States. If the SCOTUS rules in his favor, it will bring sweeping change and marriage equality to all of the United States. This was truly going to be an opportunity of a lifetime to be back on Guam.
The weeks prior to visiting, I had pretty intense dreams about being back on Guam. Afterall, it had been almost 20 years since I had left. I dreamt about everything from walking the halls of my high school, visiting old shopping malls and even eating at my favorite restaurants. I was very excited to go home.
The Journey Home...
I was only there for six days and two days of my trip was spent travelling. I got to stop in Japan for a little bit and that was very exciting. Japan is BEAUTIFUL!
After a a grueling 14 hours flight to Guam I arrived around 11pm and was greeted by the President of The University of Guam , Mr. Robert Underwood and his wife, Senator Nerissa B. Underwood. I was so very excited to meet both of them, they are like mentors to me now.
(James, Senator Underwood, Louise of UOG, Me and UOG President, Dr. Robert Underwood)
Also joining me on this trip was James Servino of the Human Rights Campaign. He is also from Guam and he was there to help coordinate Jim Obergefell's speaking engagements and an HRC Event at the end of our trip.
The beach in front of my hotel at The Outrigger Beach Resort, Guam
The days that followed were filled with press conferences, radio appearances and interviews. The most exciting part was being able to visit my old stomping grounds at the radio station Power 98fm, where as a high school senior I was hired as a talk show host of a show called "Hip Talk". That was pretty cool.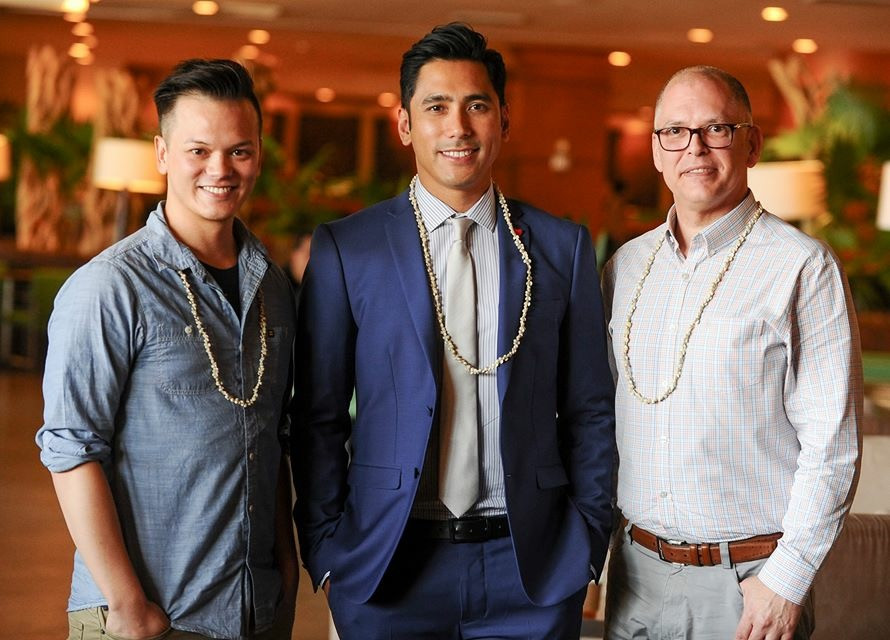 James Servino (HRC), Me and Jim Obergefell at our Press Conference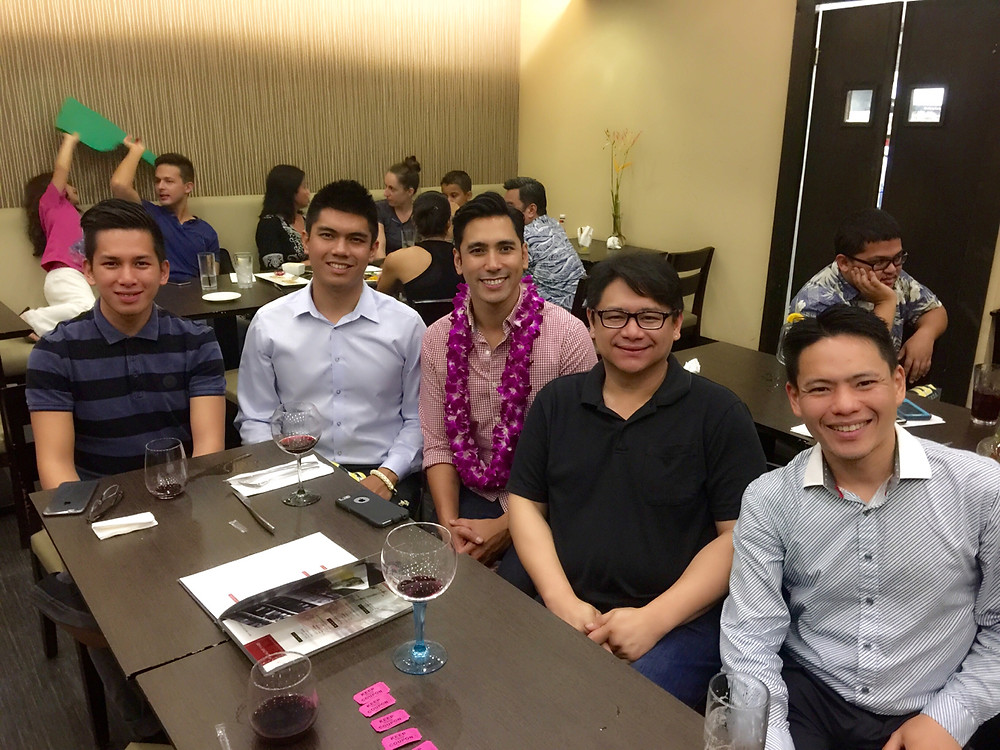 At a Meet & Greet with many new and old friends!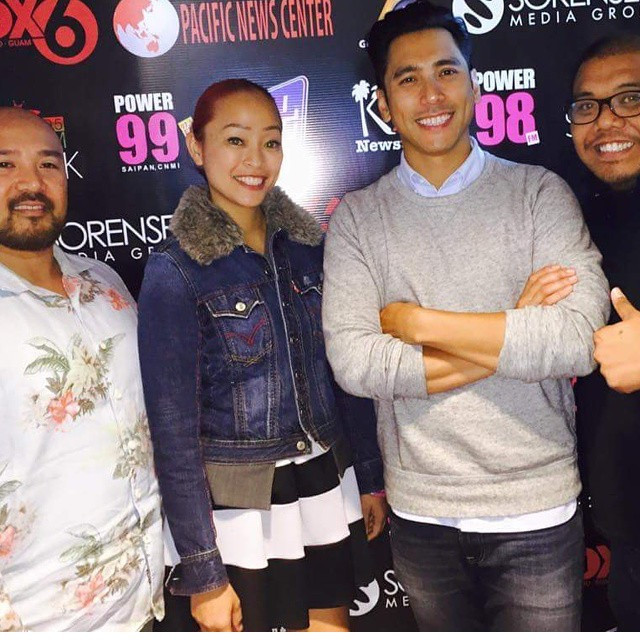 Stopping by the Morning Blender show with Hosts Kai & Kyle on Power 98fm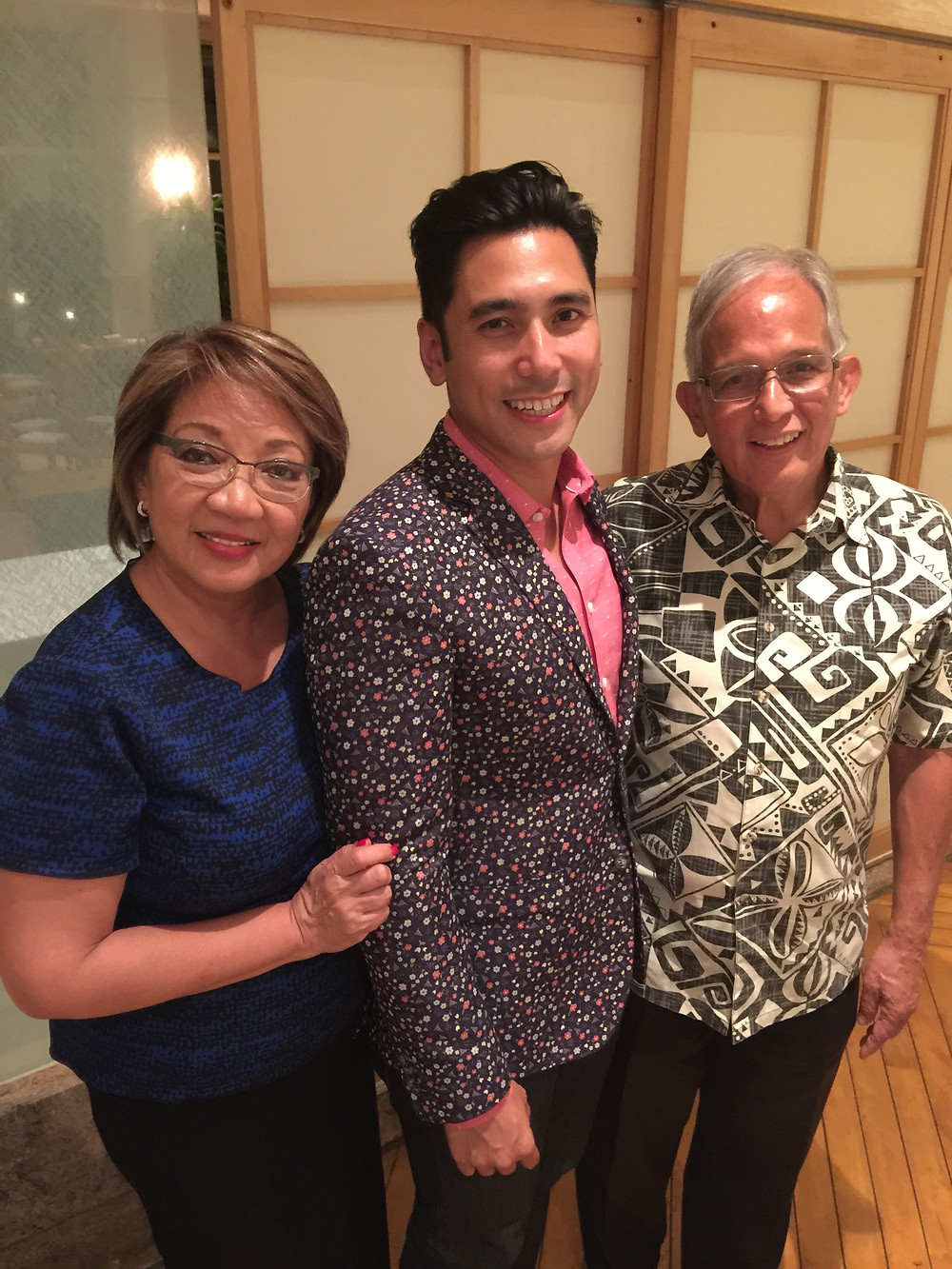 The Senator and President Underwood hosted a dinner for me one night
In between all the craziness I managed to squeeze in some family time, where I was able to take in the local food I have missed and even check off some things on my personal "must see" list . Full disclosure though, they were all food places.
The Speech of a Lifetime..
Before I knew it, graduation day was upon me. I had spent the last 3 days talking about Marriage Equality and Millionaire Matchmaker that I had almost forgotten that I was there to give a big speech.
The moments leading up to it was terrifying. I have done so many things in my life that were nerve-racking, but this was by far the scariest.
I kept thinking of things like " Would people like my speech?" Would I get boo'd?" and "What If I stutter?" The thoughts were filling my head like a sinking ship.
But, as the President introduced me, all I could do was take a deep breath... and start.
I think I did ok- but it was terrifying! I will certainly add that to my list of accomplishments for my life.
Check out my speech here.
Immediately following the Graduation Ceremony, Jim and I got to attend an HRC event, where we got to meet many members of LGBTQ Community and various supporters.
(Funny side note: Jim and I got a flat as I drove us to the HRC Event. We were an hour late. We clearly don't change tires, especially not in suits. Lol!)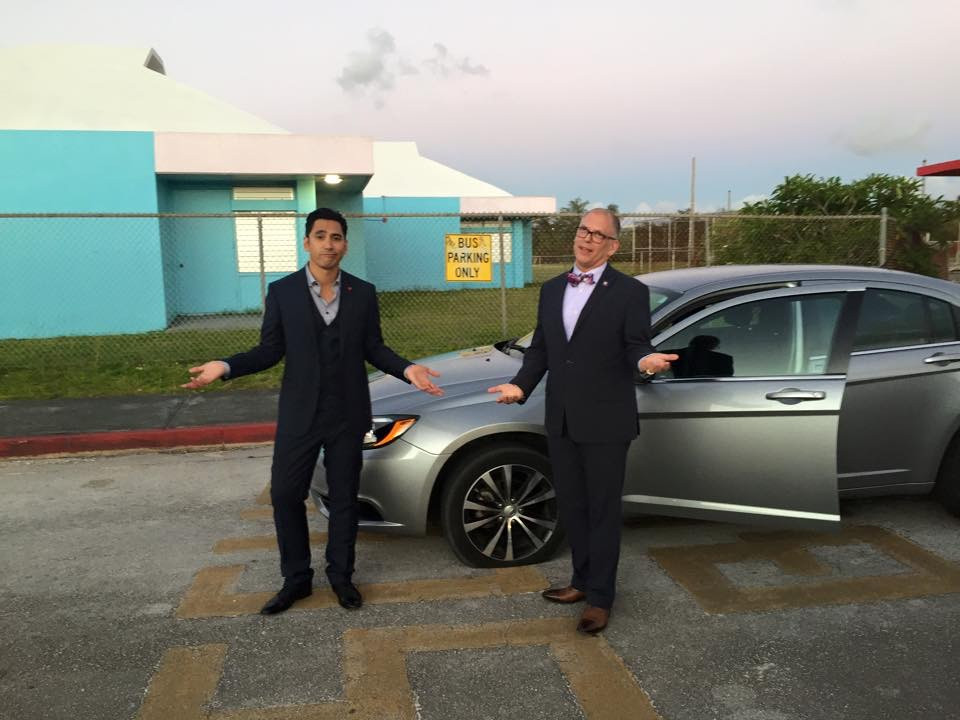 Jim & I... and our flat tire.
It was great to meet so many people including Kat and Loretta, the local couple suing the government for thier right to marry. Such a beautiful and brave couple. It was also great to meet James Servino, from HRC as well. So much of the work they do is so important, so I am happy to support anything they do, especially with Guam.
James & I at the HRC Event
As quick as this wonderful trip started, it finished just as fast. My time on Guam ended with a farewell dinner with some new friends I made. Another example of how friendship, love and hospitality on Guam is so special.
I was happy to have visited my home and recconect with my island and I hope it's not another 20 years before I return.
Thank you to everyone on Guam for making my visit so memorable. Most especially to the following people: Senator Nerissa Underwood, UOG President, Dr. Robert Underwood, my new friends Jim Obergefell and James Servino of The HRC, Kat & Lo and lastly Louise, Norman and Jonas of UOG.
Last but not least, my Mom. Even though she takes pictures of me like a crazy papparazzi and embaresses me in the process, I could not love another person more in life.
Thank you for being my number one fan and the best mother in the world.