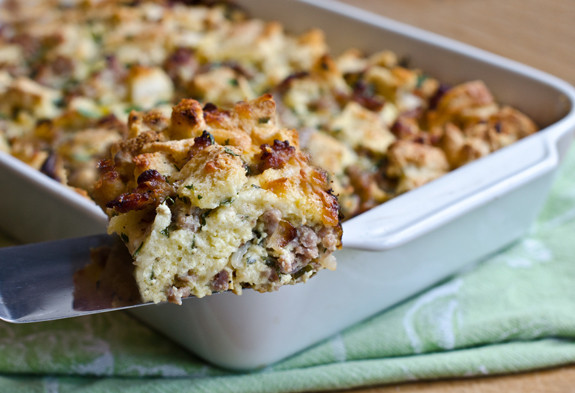 By Leyna Doan
I'm sorry, did you say "savory" bread pudding?
Absolutely!
With the same luscious, creamy texture and layers of crispiness from the crust that makes the sweet version so appealing, a savory bread pudding can be just as divine! A smart way to use stale bread, bread pudding combines convenience with the appeal of comfort food―a great way to wake up to a holiday winter morning.
This hearty simple entrée is great for any day of the year because it's so easy to prepare! Too busy shopping for the holidays? Make it a day in advance. It bakes beautifully the next day!
Feel like having it for dinner? Make a side salad or sauté some greens while you soak up the aromatics of the bubbling cheese and herbs baking in the oven.
Use my recipe as a guideline and add whatever you like! Flavor combinations are myriad. Whatever ingredients you use, the finished dish will emerge from the oven with a golden crust on top and a soft, fluffy interior. Make your home feel like the holidays.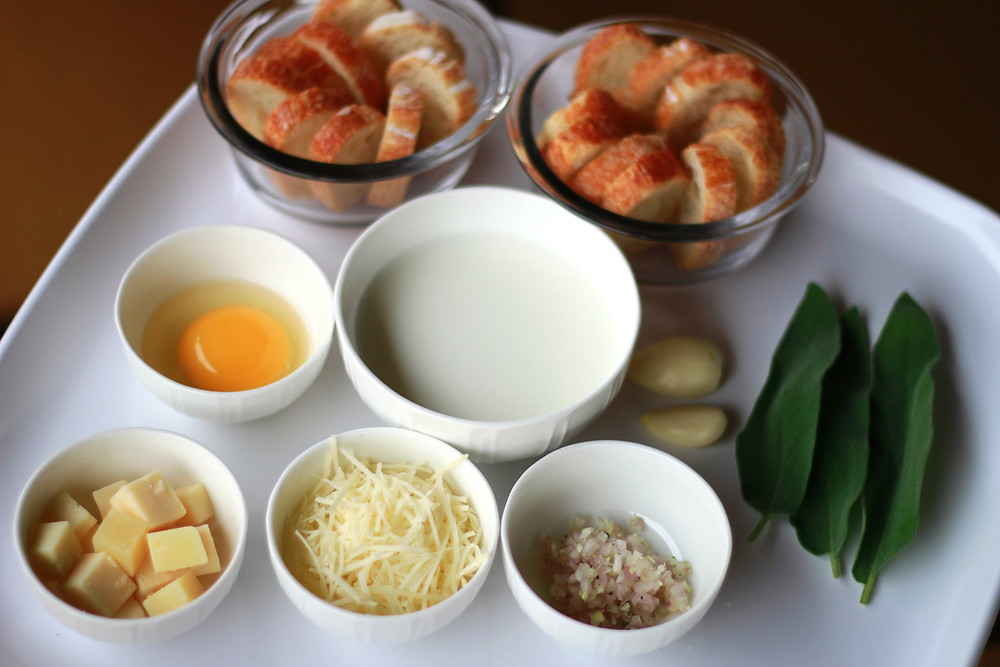 What You Need:
½ baguette (sliced)
½ C Heaving Whipping Cream
½ C Whole Milk
1 ea Egg
1-2 ea Garlic Clove (chopped)
3 ea Sage Leaves (chopped)
1 ea Shallots, Large (chopped)
¼ C Asiago (shredded)
¼ C Age Gouda (small cubes)
½ Salt
½ Black Pepper
Yields: 4-6 servings
How To Prep
Arrange baguette slices into ramekins. Assemble the Gouda cubes in between the layers of bread.
In a separate bowl, combine all the ingredients and whisk till combined. Pour over the arranged baguettes inside the ramekins, about ¾ quarters of the way up.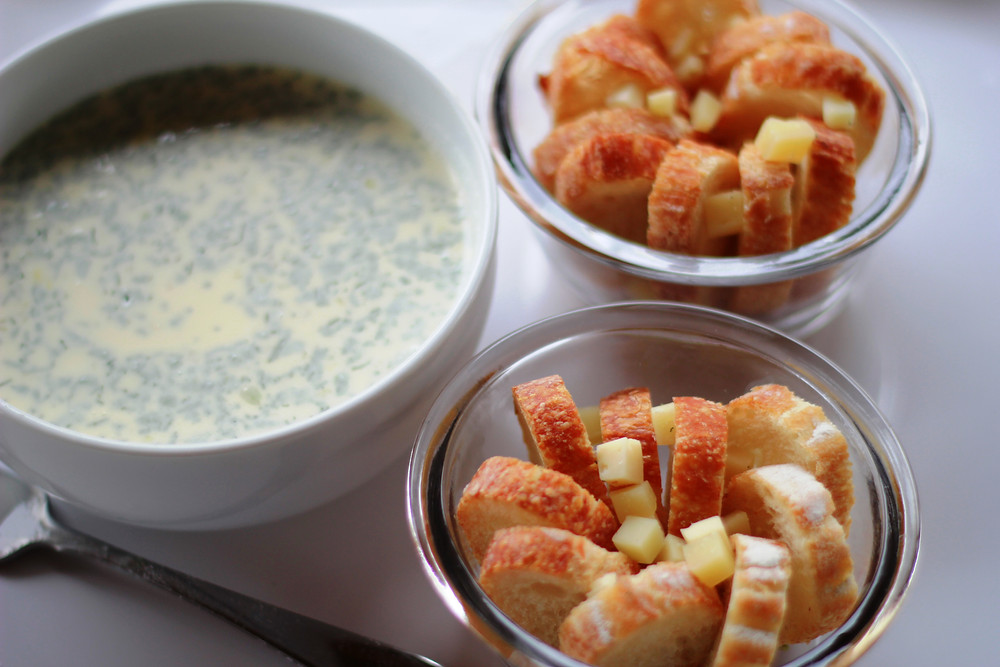 Let soak at room temperature for about 15 mins.
Bake at 325° for about 25 mins. or until slightly firm and golden brown. Serve hot.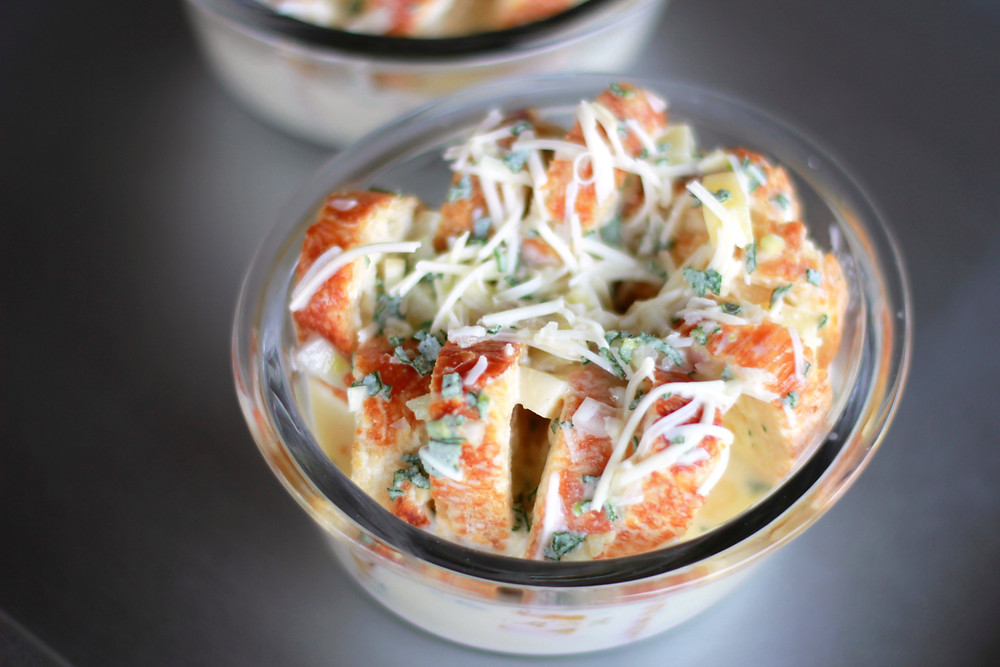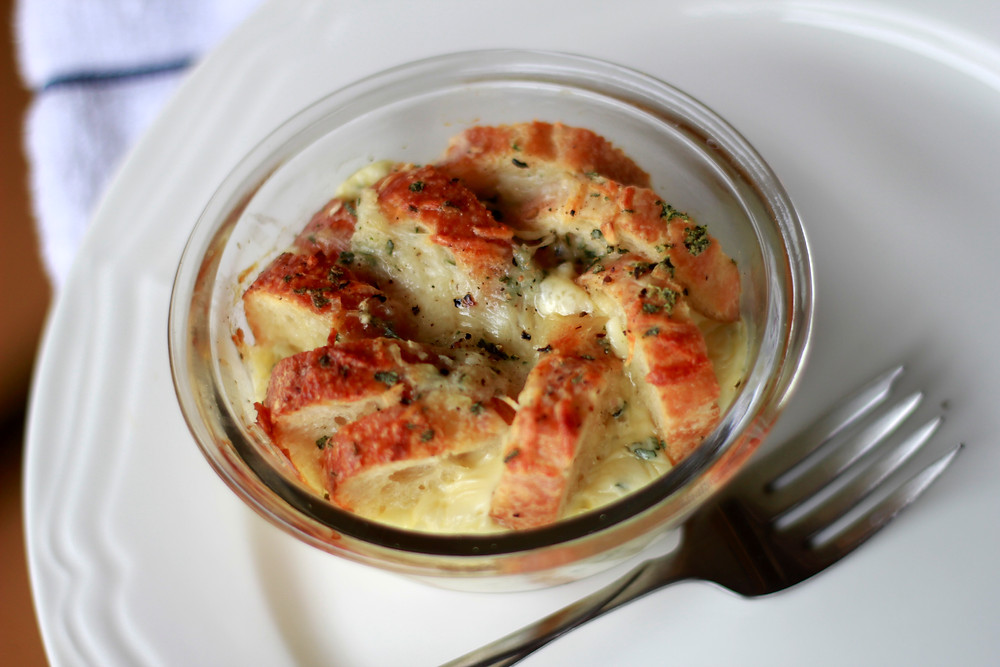 Note: You can use shrimp, ham, bacon, or cooked Italian sausage in between the layers of bread before pouring over the egg mixture for different savory flavors. Cheese combination is your preference.
I'd love to know what you thought of the recipe! Email me at [email protected]!
Leyna Doan, Chef
Leyna began her professional training at the world renown Le Cordon Bleu Culinary Art School, specializing in cuisine. While attending school, Leyna was asked to compete on Food Network's Cupcake Wars where she introduced liquid nitrogen to the cupcake industry. Leyna, now in her own professional kitchen, is combining her passion in both sweets and savory to create the most unique and extraordinary "Leyna's Kitchen" experience.
For more on Leyna, head to LeynasKitchen.com