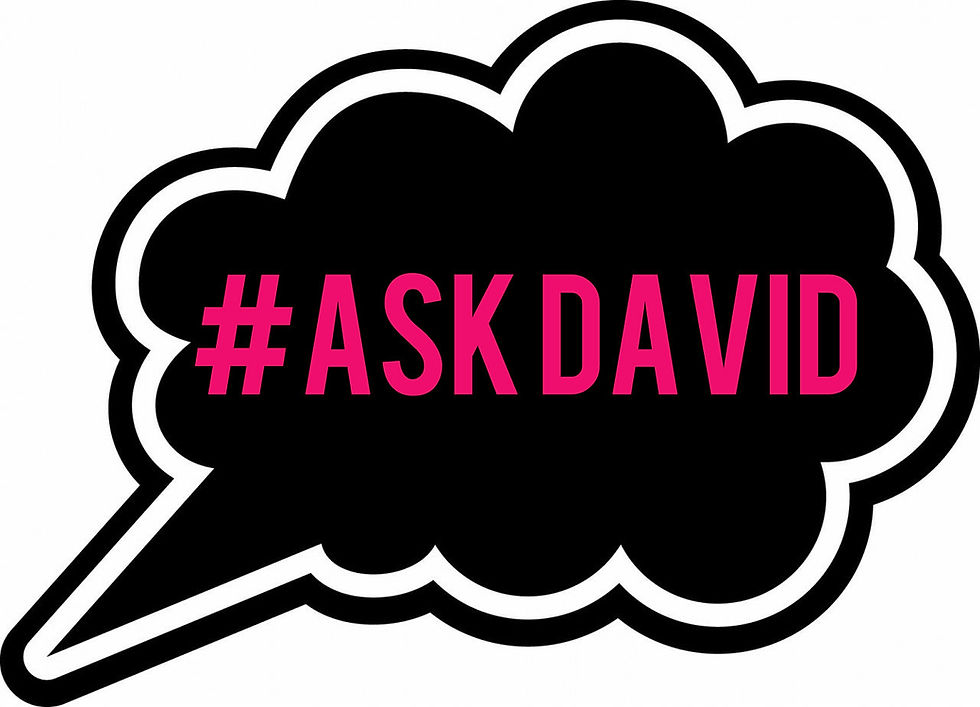 by David Cruz
Thank you all for being so patient! Your questions have been piling up and I am ready to get to all of them so here we go!
Remember, If you have a question about dating, love, sex or anything! Send me an email at [email protected]
You can also tweet me at @DavidCruzTMM with the hashtag #AskDavid
I'll do my best to respond to anyone with any question!
FROM THE WEB:
Dear David-
I am writing from San Diego California. I have a few questions. It would be great to hear some feedback. I recently started working at this job were there's many buildings and people working in this offices. I started working as a courier (messenger) I met this guy we exchanged numbers and than the next day we met and hooked up. While we texted he had told me he was seeing someone. I haven't heard from him again. He also told me that he wanted to know me in and out of bed. I need help.
-New Guy On The Job
From David
Dear New Guy!
Sounds like you have been busy getting to know everyone at your office. Yes, that was sarcasm.
First and foremost, you need to learn that office romances (although they sound hot) are something that you should steer clear from! I was always told to never shit where you eat. And that's what I am going to tell you now!
Friends are great to make, but not lovers.
Next, clearly this guy pulled a fast one on you because since sleeping with you he hasn't called you back. That right there is what we call "The writing on the wall!" Also, you have NO BUSINESS sleeping with a guy in a relationship.
You don't need that bad energy in your life. Move on and find someone else with no drama and no baggage. Thats what you deserve.
FROM THE WEB:
Dear David:
I have been single woman for almost ten years now. I had a horrible breakup with my ex when I found out he was cheating on me. I have not been on a date since then and feel afraid to even try dating. What should I do?
-Stuck at Go
Dear Stuck at Go!
You have every right to feel afraid after your experience. But, after ten years, it's time to take a shower, put some clean clothes on and face the world. Im sure "Cat Lady" is not the title you want to end your llife with. You are far more fabulous than that.
Remember, not all people are cheaters. So don't hold that against everyone you meet. Start slow and you will soon find that you can hold your own. Maybe nights out with friends is the perfect way to start, then easy your way into online dating.
You are perfect in every way and someone out there is looking for exactly who you are. Just remember that.
From Twitter
@DavidCruzTMM I'm a single guy and was recently invited by a couple to be a "third wheel" Ive never done this before but would love to try. Any advice? #FantastyOrJustWeird
Dear Third Wheel,
If your single and have that curious bone in your body, I say why the hell not! It's good to, how they say, "Sow your oats" and get it all out of your system. Trying everything once isn't such a bad idea. Just be safe! I REPEAT, BE SAFE!
The only advice I can give is be respectful and set some boundaries before you get all "Eyes Wide Shut." Lastly, remember, you are a plus one to this dinner party so don't have too many expectations. It's not a relationship. Unless, that is, you find this is what your into.
FROM TWITTER
@DavidCruzTMM Im a picky person who hasn't had a serious relationship in 4 years. Am I being too picky? Confused on if I have highs standards or rediculous requirements. #IHaveAList
Dear List Maker,
The road to love starts with burning that list. It's holding you back from finding a good partner! Sure, it's ok to have non-negotiables like maybe "smoking or religion" but things like the kind of car they drive, color hair and job type could be clouding the real Prince Charmings from finding thier way into your heart.
Take a long hard look at that list and decide what will really bring you love and happiness. The rest is just shallow filler.