For as long as I can remember, I have always obsessed over buying greeting cards.
When I was a child, I used to love taking trips to the Hallmark store where I'd spend hours looking at all the cards. I would meticulously explore the different categories of cards from birthdays weddings. In my head I would make note of the best greetings and designs like I was some sort of greeting card connoisseur. (Which I still believe I am today)
As I got older, my obsession grew into finding local handmade cards, especially letterpress cards. I love running my fingers over the print and feeling the indentations in the paper from the printing process. It's a whole other level of card making.
This is how I fell in love with all the products from Richie Designs, a boutique design and letterpress studio in Long Beach, California. They are made of thick cotton paper and the designs are bright, colorful, modern and fun!
Richele Silva is the designer and creator behind Richie Designs, and she is quickly becoming the darling of celebrities and press alike. I had a chance to get an inside look into Richele and her world at Richie Designs and ask her a few questions about how Richie Designs come to life!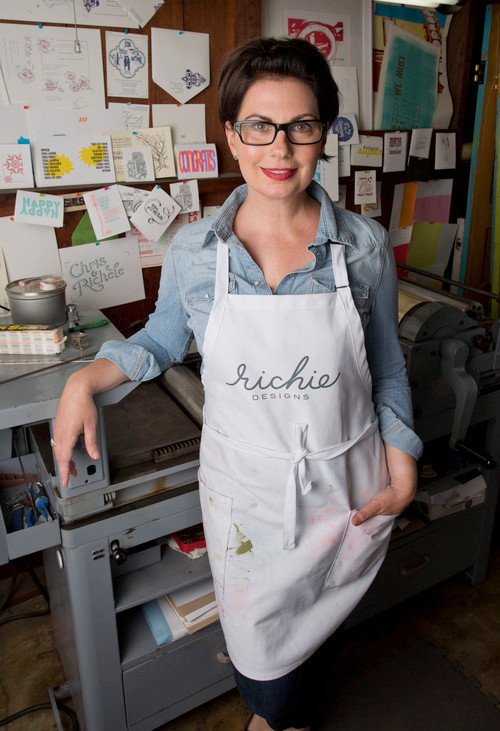 Tell us about how Richie Designs came to be?
It really found me. I've been doodling and making little handmade cards for friends and family for as long as I can remember. I was a pretty shy kid so I think writing down my feelings was the way I could express myself.
About 15 years ago I was taking some art classes for fun and fell in love with printmaking. Some friends were getting married and asked me to letterpress their invites and I began working with polymer plates [vs. hand setting type] I realized I could put all of the things I love, together and everything evolved from there.
Describe your creative process. Is there a ritual that you do every time? (Music? Wine? Movies?)
There isn't a specific ritual for me. I have a LOT of sticky notes tacked all over my office of little ideas, things I've overheard or read. Sometimes it's just a conversation with a friend that leads me to an idea. When I sit down to actually try and make it into a card, I try and work very quickly to get a number of concepts out, then I start to edit from there. Often times my first doodle is the one that sticks.
We love all the cute/funny greetings that you have on your cards. Are they inspired by anything in particular?
I just have a weird sense of humor! I do work really hard at designing cards that have multiple purposes. I really hate buying cards that I can't use in multiple situations. I want buyers to be able to buy 3 or 4 cards to keep in their desk at the office to get them out of a jam.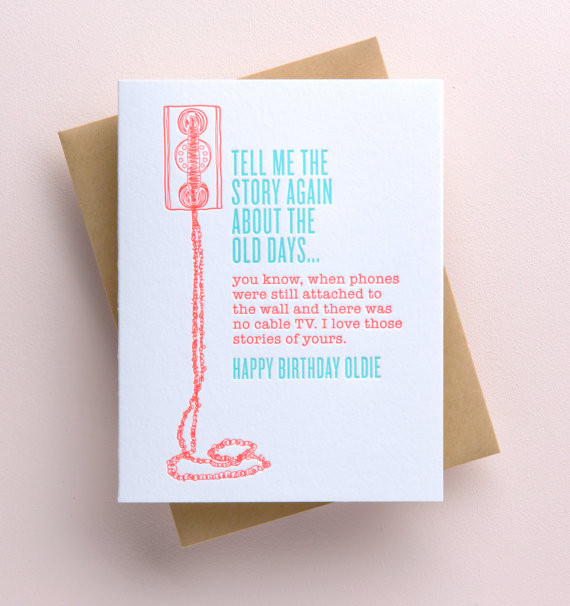 Tell us about the "first proud moment" you had with Richie Designs. Was it a big client, sale, press, etc.
Before I really had a line to speak of, I did some shoe illustrations of high end fashion designers; Rachel Zoe's, The Zoe Report website featured me and I sold out almost overnight. It was fun [and a bit scary as well] It was one of the first times I thought, I might be on to something real here.
When you wander the card aisles in stores, what is your favorite category to spend time in?
Ohh… that's a hard one. I have a different approach to walking the card aisles, I really enjoy seeing my fellow friends who are designers featured in boutique settings, so that's a joy for me to see them featured. I probably buy more friendship though. My girlfriends live all over the country so we all send a lot of cards to each other.
Of your designs so far, do you have a favorite? Why?
I have two favorites: The Shark card is one – it's one of my original cards. I did a very elementary sketch of that shark and I kept working at the idea trying to make the shark more realistic. A friend finally told me to try the initial doodle and it was perfect. It's a reminder to me about life in general, and also try the first idea… it's usually the right one.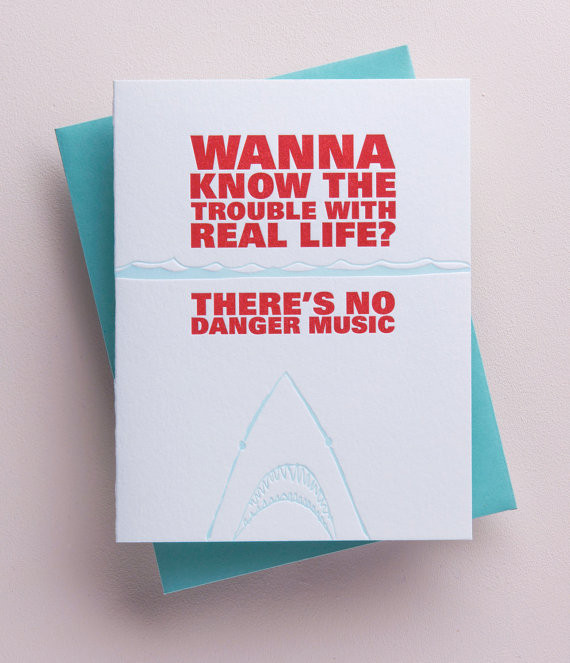 The second is "Don't Fret My Pet" it's not a great seller for me but I've decided to just keep it in my line for sentimental reasons. When I first began my company I had a dear friend who essentially worked for free to help me out. He later became my full time assistant. Sadly, he passed away a couple of years ago from a sudden heart attack. He used to say to me "Don't Fret My Pet" all the time when I was worried. That's my ode to him and a great reminder as well.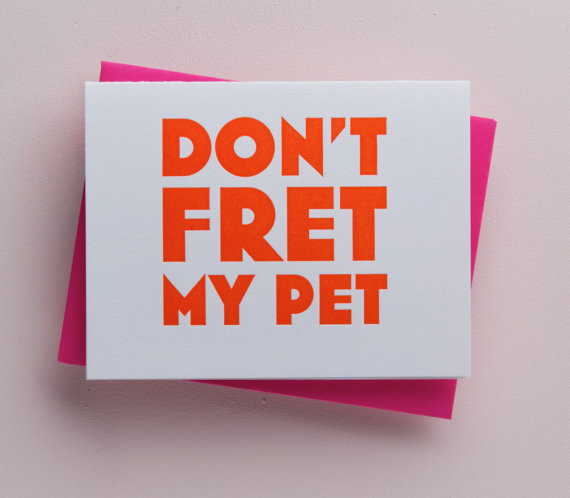 Tell us about the most memorable card or letter you ever received.
I wish I could say it was a written letter! When I met my husband he only had my email to contact me. He sent me this lovely note telling me about himself and asking me out on a date. I still have it printed out and taped to my wall.
Advice for people who can't always find the words to put in cards or letters?
People really want to know that you're thinking about them. If you can say nothing else just tell them that. It works for really hard situations and also just a fun, friendly note. They'll be so grateful for it.
Thanks David, this has been fun!
If you love Richie Designs like we do, make sure to buy her super fabulous "Love Set" exclusively here on Finding Cupid!
All our readers get special 15% discount by entering the promo code: FINDING CUPID at check out!