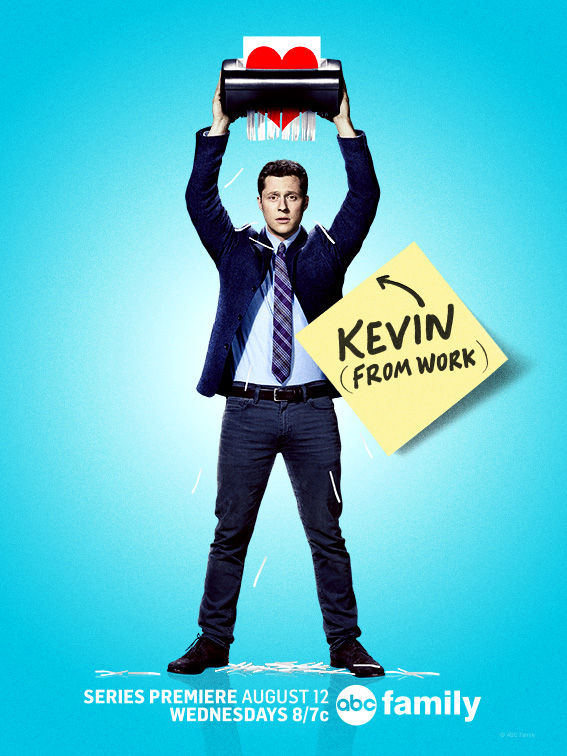 (photo courtesy of ABC Network)
It's no secret that we at Finding Cupid love a good Romantic Comedy. Whether it's a tv show, a movie or heck, even a commercial, we LIVE for a complicated, star-crossed and unrequited journey between two lovers.
We often long for the good old days of Meg Ryan, Julia Roberts and even Reece Witherspoon.
It seems like the genre of "RomCom" has taken a beating over the last few years, Hollywood can't seem to find the right way to bring it back into the modern living rooms.
But then, something very special comes along like the new ABC Family TV show "Kevin From Work."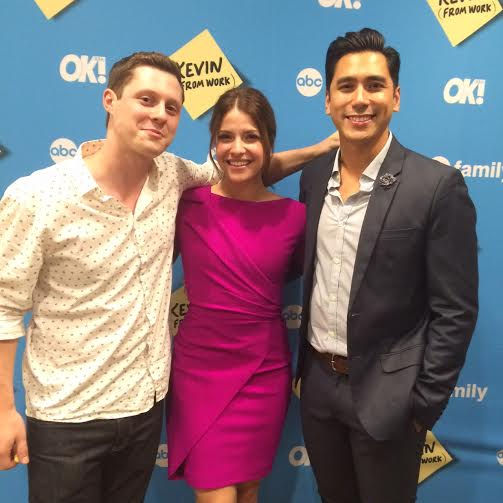 (Noah Reid, Paige Spara, David Cruz at OK! Magazine screening of Kevin From Work)
This past week I got the opportunity to see a special screening of the pilot along with other influencers and bloggers. We were treated to champagne and cupcakes and even got to meet the cast and ask them questions. Hosting the event and Q & A was OK! Magazine.
Side note: When OK! Magazine calls and says "RomCom, Champagne and cupcakes... DROP EVERYTHING!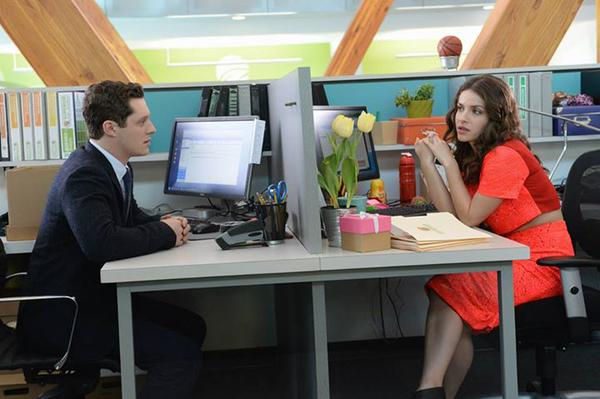 (photo courtesy of ABC Network)
The new half hour comedy follows Kevin (Noah Reid) who has been in love with Audrey (Paige Spara) since the day she moved into the cubicle next to him at work. Audrey is of course taken by a nuckleheaded beefcake named Brock, so Kevin spends his nine to five dreaming about how he could be a better man for her.
But here is where I got sucked in.
Kevin gets offered a new job in Italy and gives his notice. On his last day he gets drunk at a going away party, writes and then mails a letter to Audrey, confessing his love. The next day, after realizing his drunken actions, Kevin tries with all his power to stop the letter from getting to her.
But nothing can stop it and Audrey now knows the truth.
This of course would all be ok since Kevin would never see her again. But Kevins job in Italy suddenly falls through and now he is back to work on Monday.
What will he say to her, what will she say to him?
There is so much that is said and unsaid in those five feet between them. This is certainly one Monday that Kevin wishes that this small cubicle wall was a bigger one.
Say it with me... "CLASSIC RomCom recipe and I love it!"
Sure, we the plot isn't exactly groundbreaking and we have seen it been done many times before. But what makes "Kevin From Work" shine is it's remarkable cast, it's tip of the hat special effects (for the younger tech. generation) and it's on point writing.
Let's start with the cast.
(Paige Spara, Punam Patel, Noah Reid, Matt Murray and Jordan Hinson)
Noah Reid plays this role like a fiddle. He is relatable, vunerable and funny. Not since the good old days of Scott Foley in Felicity have I felt so invested in a character and his mission to win the heart of the woman he loves.
What's even more admirable about Noah and his character Kevin, is that he takes on the role of a RomCom king, a role traditionally reserved for women ala Sex and The City, Sleepless in Seattle and My Best Friend's Wedding. There are not too many actors who can make you feel that love is cool and funny, while making you believe in their sappy mission of love.
Paige Spara is a breath of fresh air. She is the kind of actor who is beautiful, funny and yet still convincing as her character takes you through a roller coaster of emotions. Not many actors can tow the line when it comes to that. We see Paige as Audrey play with cartoons, sex it up, be campy and yet still manage to give "a look" that will give puppy dog eyes a run for thier money.
It's hard to believe that this is Paige's first role on tv. I have a funny feeling we will be seeing much more of her.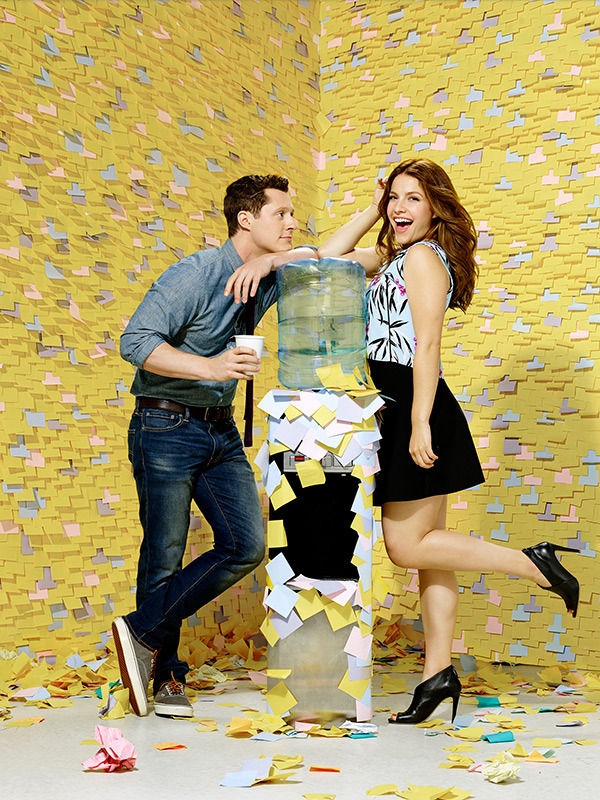 (photo courtesy of ABC)
Then we get to the three secret weapons of the show. Noah's best friend Brian (Matt Murray), Roxie (Jordan Hinson) and Audrey's roommate Patti (Punam Patel). Not since the cast of Friends have I seen such a supporting cast so awesome. I cringe even writing the words "supporting".
Murray and Patel provide the kind of comic relief that is usually only seen on SNL or Mad TV. It makes you feel that that everything that they do in life has to be pure comedy. I bet a million bucks that these two can make painting a wall a laugh out loud event.
Jordan Hinson brings the pretty bow that this perfect show needs to be wrapped up with. She is the every girl that most young women will connect to. As Noah's sister, she brings a free spirited character that is representative how this generation of Millenials navigate thier everyday. She does it flawlessly.
At the helm of the show is Producer and Director McG. You will know him from his awesome work on the Charlies Angles reboot, Chuck, The OC, Supernatural, Kikita and many more.
McG's DNA from all his projects are quite obvious throughout the entire episode. From the special effects to the characters personalities, the show breathes new life into the sleeping giant that is the RomCom. McG manages to put a very modern twist on a traditional form of story telling. He reimagines and reinvents ways to elevate the storyline.
All this combined is what makes this show a hit and one for everyone to watch.
The first episode of "Kevin From Work" is available online on ABCFamily.com and HULU. The show then makes it's television debut on Wednesday, August 12th at 8/7c on ABC.
For more on "Kevin From Work" click here.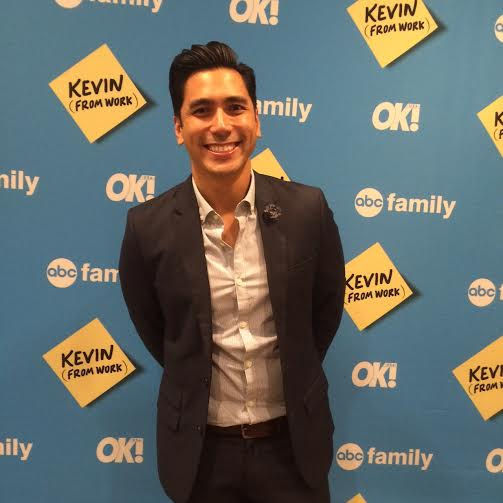 David Cruz, III
David is the Founder and Creative Director of Finding Cupid. He has been writing about Dating & Relationships for the last five years and is a contributor to Huffington Post, Frontiers Media, Your Tango and many other publications. David can often be found in the greeting card aisle seaching for the ultimate love card, or a bakery making bad decisions for himself.