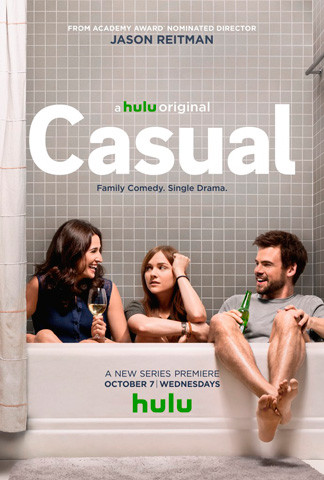 As if Fall Television wasn't already jammed with must see tv shows, the last thing I needed was to get trapped by Hulu with a new original series about dating. I mean, the main reason I am even on Hulu is because I am catchin up on tv that I was behind on. Now - BOOM, here I am distracted!
Enter "Casual" a show about a woman, Alex (Michaela Watkins) who's a therapist in the middle of getting a divorce, her daughter Laura (Tara Lynne Barr) who is an angsty sexually active teen and the man they live with, their brother Alex (Tommy Dewey) who is a loud and proud (yet slightly depressed) serial dater.
The series is written and produced by Jason Reitman (Up In The Air & Juno) so it's already got my stamp of approval.
Casual takes a more serious and cynical approach to the world of dating by not sugar coating the realities that single daters face. Which is - YAY- amazing. I am sure we are all tired of seeing things go "perfect" on first dates in tv land.
In addition to the seriousness of everything, there is also a ton of humor. Some dark, some dry - but for all who dates, you will pick up on them in a way that only you can understand.
Check out the trailer here and tell me what you think. The first two episodes are currently available on Hulu now.