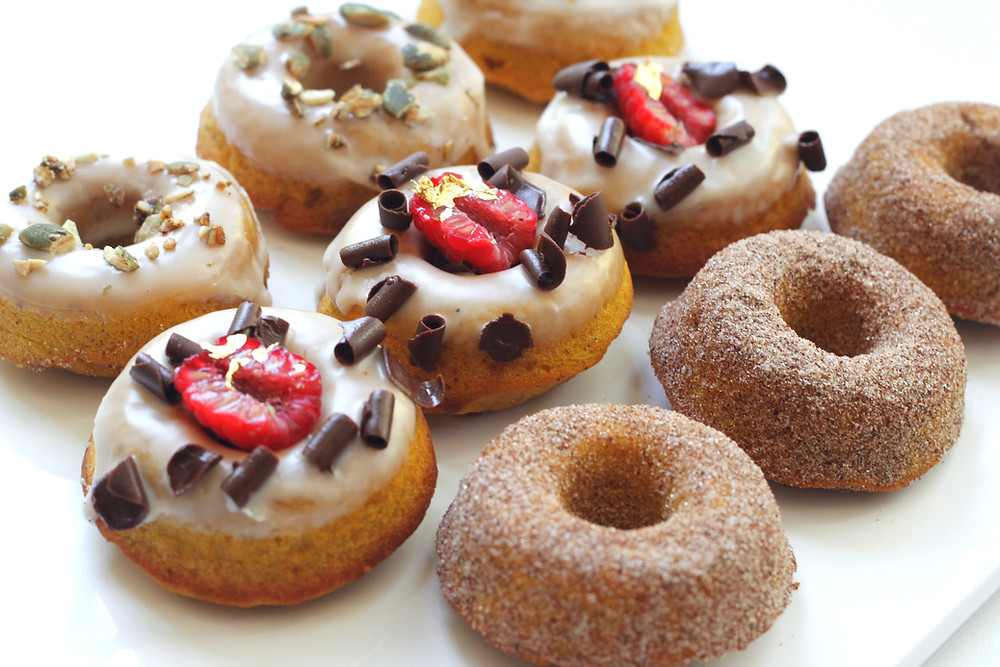 Remember the days when all we had to look forward to at the change of the seasons was the "Pumpkin Spice Latte" at Starbucks? Well, it seems that the American fascination has reached new heights this year as pumpkin flavored or themed products are EVERYWHERE!
I was just in a Trader Joes the other day and they told me there's at least 40 different types of pumpkin products this year. AMAZING!
But, that got me to thinking... how can I take this trend and give it some style?
The answer: Pumpkin Donuts!
In creating my recipe, I made sure to take the best parts of both worlds and elevate the taste and experience. By adding a little "Leyna's Kitchen Magic" I came up with something pretty amazing.
This recipe is easy to make and perfect for any fall party, office gathering or even just Sunday brunch with friends.
Enjoy and make sure to subscribe to Finding Cupid for more holiday recipes coming this Fall!
Yields: 6-8 servings (approx 3 dz mini donuts)
1 3/4 cup + 2 Tbsp all-purpose flour
1 3/4 tsp baking powder
1 1/4 tsp salt
3/4 tsp ground cinnamon
1/4 tsp ground ginger
3/4 tsp all spice
1/8 tsp cayenne pepper
3/4 cup granulated sugar
3/4 cup packed light-brown sugar
1/2 cup canola oil
3 large eggs
1 1/2 cups canned pumpkin puree
1 tsp vanilla extract
COATING
Cinnamon Sugar
1/3 cup granulated sugar
1 1/4 tsp ground cinnamon
Vanilla Glaze
1 1/2 cups confectioners' sugar, sifted to remove any lumps
3 - 4 tablespoons milk or water
2 teaspoons vanilla extract
Roasted Pumpkin Seeds
1/3 cup rough chopped (roasted) (toss in cinnamon sugar)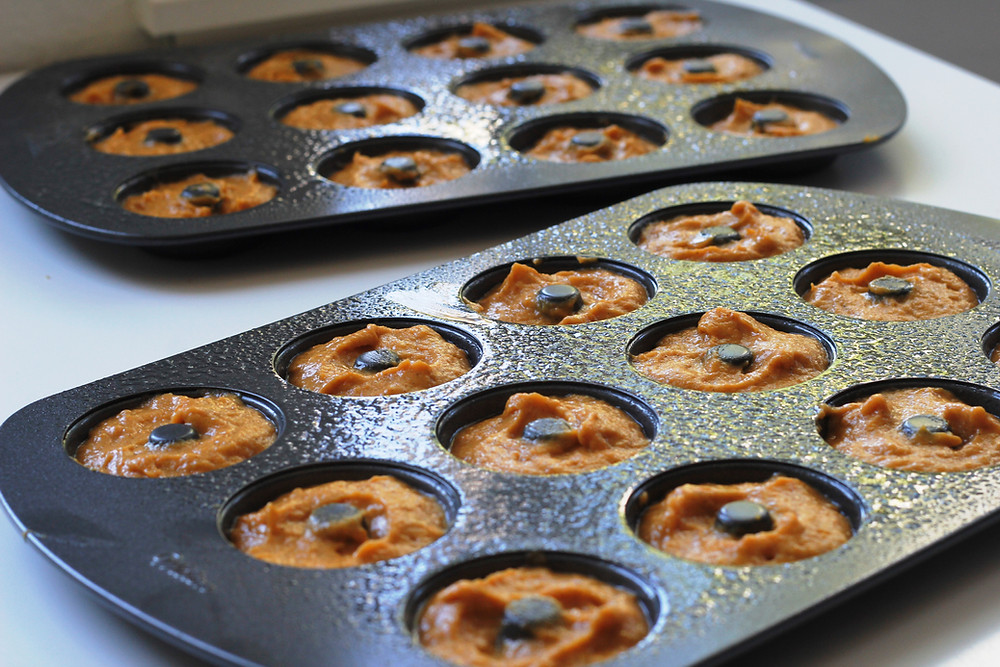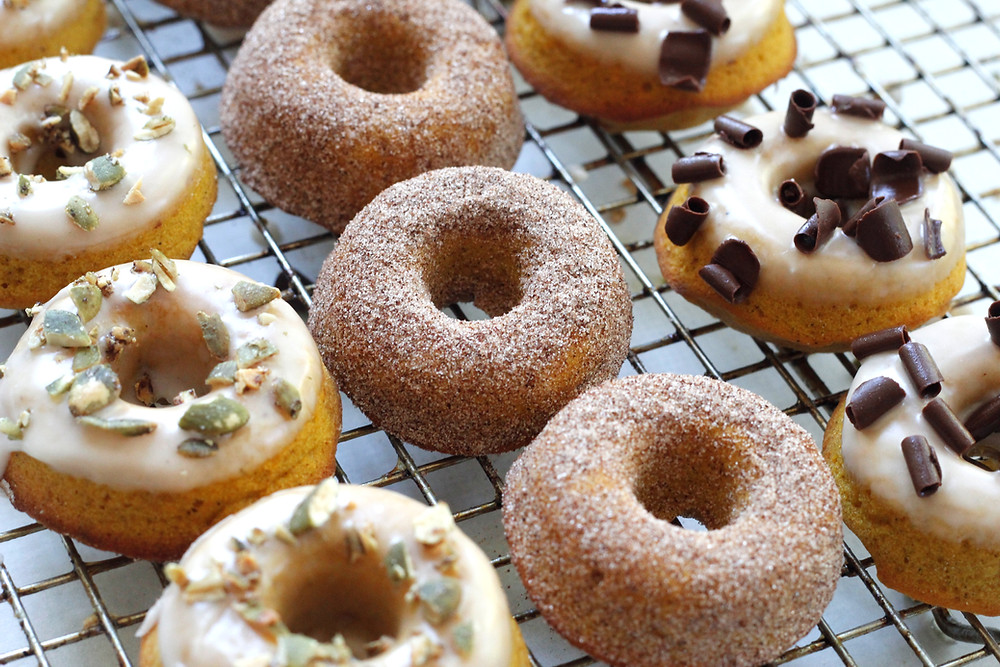 Directions
Preheat oven to 350 degrees. Thoroughly spray donut pans with oil.
In a mixing bowl, sift together flour, baking powder, salt, cinnamon, ginger, all spice and cayenne. Set aside. In a separate large mixing bowl, whisk together granulated sugar and brown sugar until well combined. Add canola oil, eggs, pumpkin puree and vanilla extract and using an electric hand mixer, blend until mixture is well blended. Add dry ingredients to pumpkin mixture and mix with electric mixer until well combined. Spoon or pipe batter into doughnut wells, filling each about 3/4 full. Use your fingers to flatten out top to bake evenly.
Bake 7-9 mins or until done. Toss immediately in Cinnamon Sugar (see recipe) or glaze with Vanilla Glaze (see recipe) followed immediately with roasted pumpkin topping.
If you want to be extra chic, we added sliced Raspberries with 24 karat gold flakes to the top of ours. Feel free to garnish as you wish, just make it chic every chance you get!
Till next time... Leyna.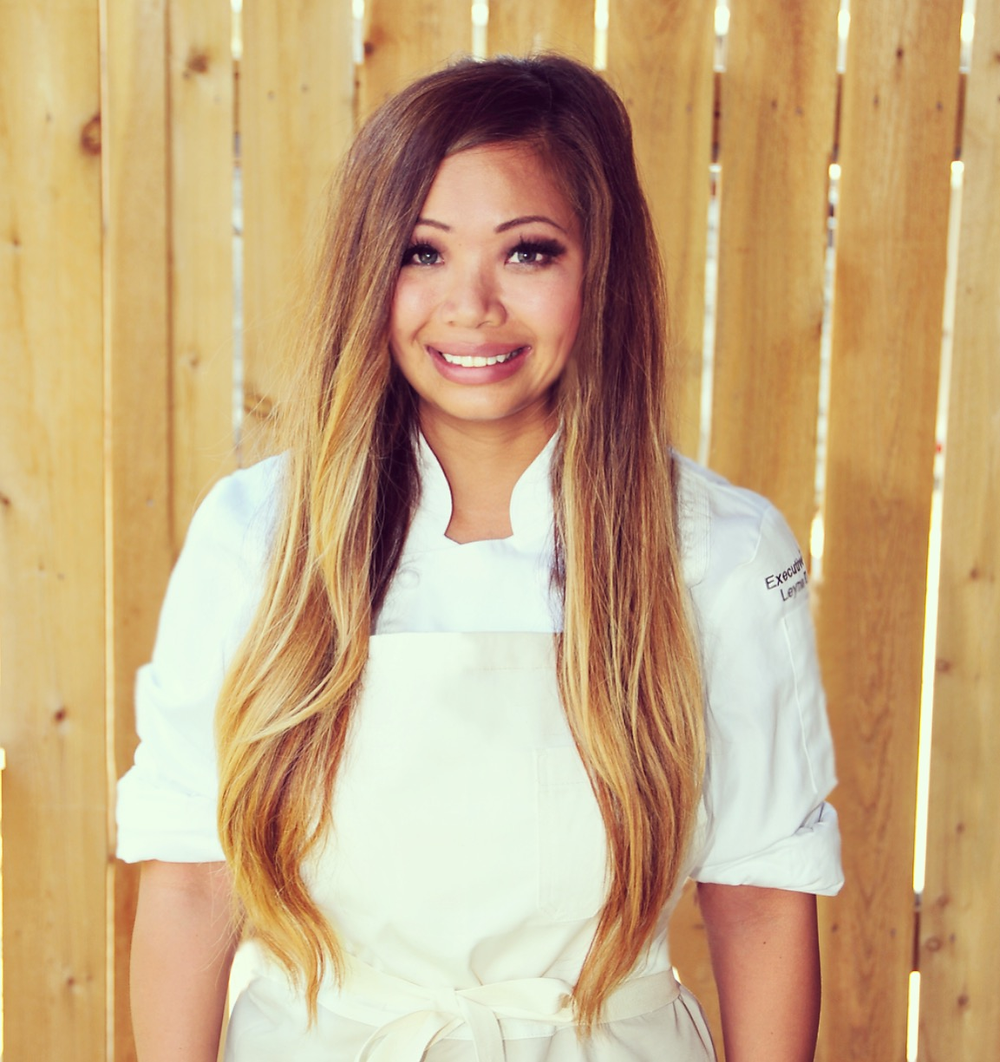 Chef Leyna Doan
Leyna began her professional training at the world renown Le Cordon Bleu Culinary Art School, specializing in cuisine. While attending school, Leyna was asked to compete on Food Network's Cupcake Wars where she introduced liquid nitrogen to the cupcake industry. Leyna, now in her own professional kitchen, is combining her passion in both sweets and savory to create the most unique and extraordinary "Leyna's Kitchen" experience.
For more on Leyna head to LeynasKitchen.com