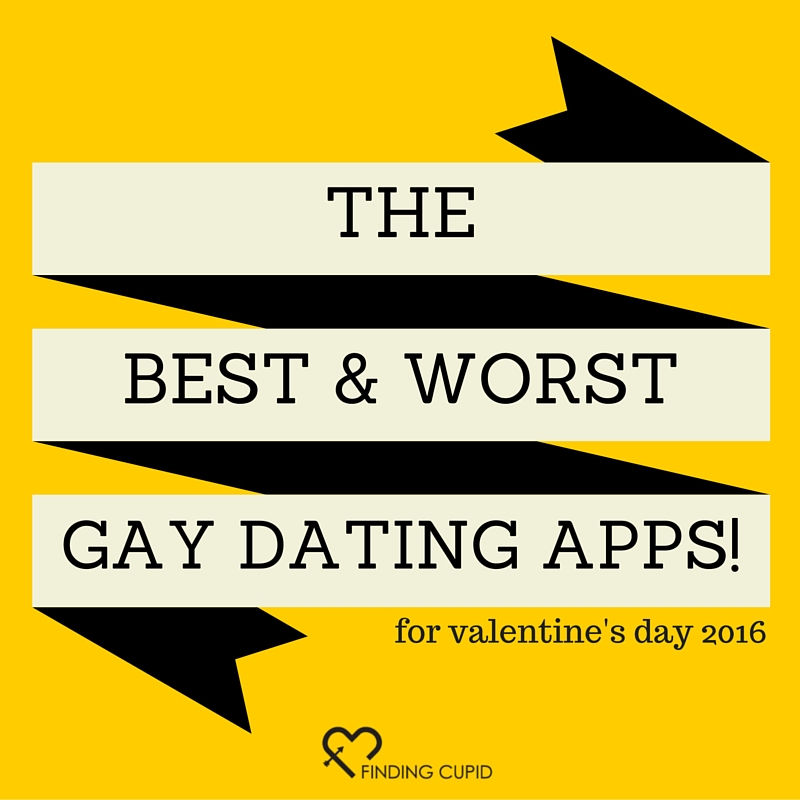 As February 14th, 2016 approaches ever closer, the sense of love and sex appeal in the air is totally palpable. I mean, who DOESN'T want to "get it on" during Operation V-Day?? We've waited 365 days for this moment to go on the perfect romantic date…or experience a once-in-a-lifetime hook-up charged with chubby cherub Cupid's shafts (erm, I mean arrows, of course!). However, Valentine's Day can be fairly exclusive to the straight singles and couples of the world, leaving not so much playful and gayful action for us proud homosexuals.
This plucky and spicy gay man has set out to find some of the best (and worst) gay dating apps for this upcoming love season.
I've rated the following apps in three categories: best, meh, and worst.
Here's what my romantic reconnaissance uncovered:
OKCupid: Best
OK, Cupid: we know what you're all about. This is a free site that ranges from friendship to hookups to LTRs (long term relationships). There's a chat and messaging feature that allows you to interface with other users on the site. Surprisingly, this is one of my favorite dating apps of all time! I've had much success with two date meet-ups in the past, and—as of writing this—I have a man who's interested in getting together for a date and some casual foot fun. Yes, I have a foot fetish and I say that with pride! All in all, I would say OKCupid is a success, at least for hooking up. J
Tinder: Meh
Tinder is a dating app based off pure instinct: you see the photo of a prospective love interest, and can either swipe left to indicate "no" to a match or swipe right to indicate "yes." Amidst left-swiping and right-swiping to find a match, most Tinder users neglect to message you back. That is SERIOUSLY so frustrating!!! Like, helloooo, how am I supposed to get to know you if you don't want to talk to me? That's the whole point of matching! Communication! I received a few takers, but no dates. Great if you're casually "just looking"—not so great if you want something romantic or sexual to happen.
Grindr: Worst
Yes, Grindr can be many gay men's guilty pleasure dating app. The app essentially allows a gay or bisexual male user to find other men who are "cruising" or looking for sexual hook-ups. I mean, the icon for Grindr is basically a black mask. 'Nuff said. Although it can be great for the horndog within, I've never found it particularly appealing. There's always some old white closeted men who are trying to seek out younger folks (like me). I'm not sure whether to be flattered or completely grossed out when older men check me out and hit me up with a "Hey" or "How's it going handsome."
GuySpy: Meh
Just another version of Grindr.
Scruff: Meh
When you sign up to register, Scruff allows you to select up to 5 communities (i.e. jocks, bears, etc.) that you're interested in. It also has a "Global" search option, granting you access to a world of gay and bisexual men.
Growlr (Gay Bear Social Network): Meh
Let's be clear about one thing: Growlr is truly for the "bear-iest" of us all. You can connect your Facebook profile through the app so that you don't have to set up an entirely new account through email. Exactly like Grindr, but for the gay bear community—and by bear, I mean men that are stocky and hairy as f**k!
Jack'd: Worst
Exactly like Grindr. Being the gorgeous beau that I am, I immediately received two messages upon registering my profile. They were the following: "Hi" and "Hey you wanna suck a big black cock?" 'Nuff said.
u2nite: Best
One unique aspect of u2nite that differs from other apps is that it shows you the exact location of your potential crushes and love interests. Hey, you never know when love could show up right at your doorstep! It actually seems like an app where you could meet other gay friends and love interests in a non-creepy way.