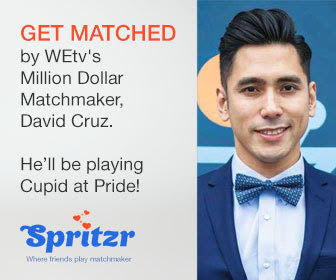 I am super excited to announce that I will be partnering with the Matchmaking App SPRITZR and heading to SF Pride to match lucky singles!
My whirlwind weekend will start with a fun event at High Tops Bar in The Castro on Friday night, then on Saturday a speaking appearance at the San Francisco Pride Main Stage (WHAT??!!- So nervous and exciting!) I'll be stopping by to say hello to the crowd and cheering everyone on at Pride!
If you haven't already, please download the free Spritzr App (available for Android and Iphone users) because I will be playing cupid for the next few weeks! It's the perfect time to not only, join a dating app but also be matched by a professional matchmaker!
But what is Spritzr you ask? A good question, so let me explain:
"Spritzr is a A matchmaking app. Where friends play matchmaker.Singles meet quality dates suggested by friends. That means less time swiping and more time dating! Those in a relationship can matchmake friends, helping them find love."
"Spritzr does not care if your straight, gay, bi, trans or anyone in-between. All they care about is that you find love or that anyone can help their friends find love."
That is kind of a beautiful thing right?
And this is why I love working with Spritzr, we both believe wholeheartedly that "Love is Love."
To download Spritzr click on this link!
If you will be in SF for Pride, please make sure to come on out and say hello to me! Again, I will be at High Tops Bar on Market in The Castro area from 6-9pm. Then at the Pride Main Stage on Saturday at 1pm!
Don't for get to follow me on Snapchat , Twitter and Instagram for all the behind the scenes coverage of my weekend in San Francisco!
See you all there!