The day after the election felt like I had a mutual break up with the best guy ever and we knew we had to part but I also knew he was the best I'd ever have in my lifetime, and I was going to be stuck being single for the next four years dating those kinds of guys who drink vodka sodas, work at a bank and smell like bad cologne and act like a pretentious frat kid (Sorry Eric and Donald Jr.).
It felt like no matter what I said it didn't matter- I am a woman who doesn't have a clean slate. Let's take a look at this past year- from the rape at Stanford University, to the many shootings that have occurred to this election, we have witnessed that the white male has more privilege than any other person who lives in the United States.
Like the many, I got angry, I spent a majority of Wednesday morning glued to my phone, making jokes about how I had reactivated Tinder to swipe right on any foreign man that popped up- but then I realized running from the problem wasn't going to solve it- it was going to feed it my power.
As someone who is half Indian with Muslim family members and being a woman, I am absolutely horrified that if I didn't have the luxury of being in California, I would probably be discriminated against- I would be told to keep my mouth shut and accept things. The election was a big "know your place" to every minority and every woman that lives in this nation.
I thought about it for a minute and realized I had two choices- to accept things because of what others voted or continue the fight- a pioneer is someone who defeats the odds and THAT is how you make history.
I'd like to think of this like a slingshot- may the amount our country has just been pulled back, only give us that much more momentum to project us forward and get even further than we have ever been. We should see this as a challenge not as defeat. Michelle Obama said, "When they go low, we go high," and with that we must reach higher than we have ever before.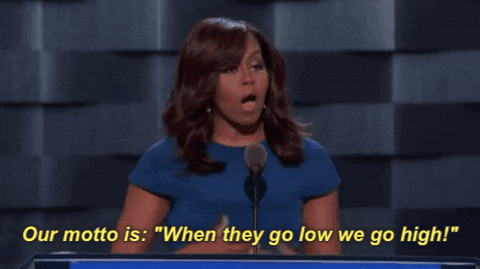 "May we recycle our anger into energy towards the greater good. Let this election be a wake up call to all the change this country so desperately needs- "equality and justice FOR ALL."
Davina Adjani
I was once told to stop writing and find something I'm good at and I have been writing ever since. I am a San Franciscan in Los Angeles who secretly loves it,a Frasier fanatic obsessed with country music and French Bulldogs. Within five minutes of talking to me you will know all about my family,who are my absolute everything. I live my life fully and honestly, and refuse to be confined by the fear that my intentions maybe misinterpreted. My Oma (grandmother) raised me to believe that love should always be a priority but most importantly, loving yourself is essential in this crazy world and with that in everything I write, I try to give the medicine of reality sugar coated with a sense of humor, hoping that through the toughest of times women know not only do they have the strength to overcome any obstacle but how spectacular they truly are.