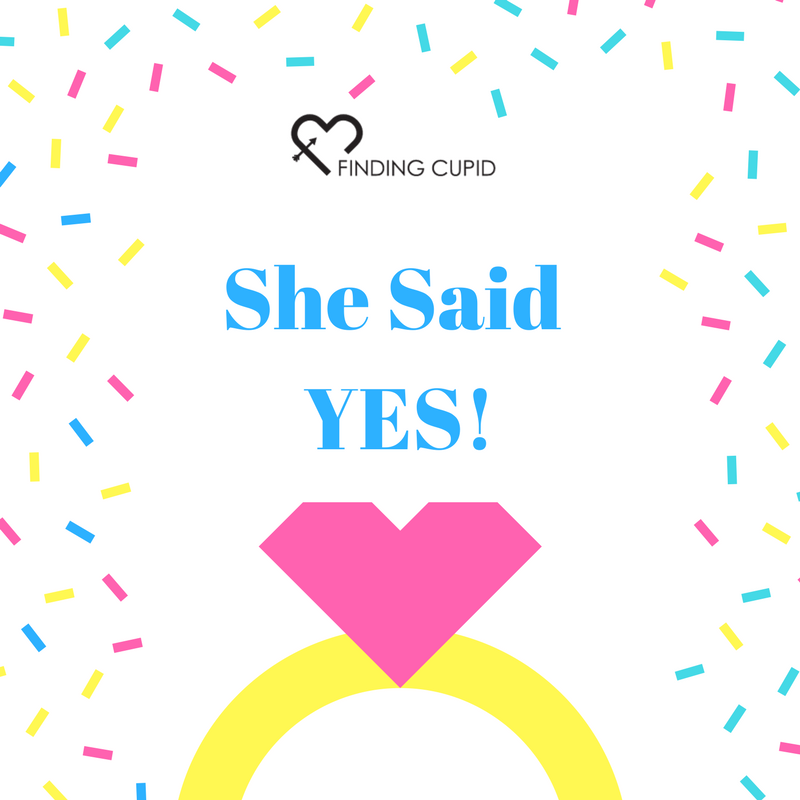 At Finding Cupid, we take our conversations about love pretty seriously. So it comes as no surprise that we are invested in the adventures of our single co-workers. When any of them need advice we gather around a few mimosas (or many vodka sodas) and try to create a strategy to find love.
But, when that magic day arrives, when one of them strikes relationship gold, we celebrate!
Last year, I was the first of our group to get married and then this past week, on Valentine's Day of all days, Shawn from our radio show pulled off the KING of all proposals.
I sat down with Shawn and asked him a few questions about the planning and day of his proposal.
Finding Cupid: You did a great job decorating and really setting a romantic mood for the proposal. How did you come up with all the ideas for this?
Shawn: Honestly, I started researching different ideas a couple months out. What I found is that most proposal ideas were either boring, cheesy, had minimal effort, or simply didn't represent us as a couple. I finally stumbled upon a few proposal stories that had some elements I liked. They were mostly private, innovative, well executed, and romantic. I took those ideas, and added personalized touches that represented our relationship.
Finding Cupid: Describe the emotions you had before, during and after the proposal.
Shawn: Haha, that's a great question. I do think men go through a different emotional roller coaster than the women. Before the proposal, I was quite anxious. Not about the proposal itself, but more about the execution and the details of the plan. I wanted it to be memorable, well executed, and perfectly timed. The amount of details was staggering, and literally up until minutes of the proposal I was still moving things around. All of that planning was nerve wrecking.
Surprisingly, I was pretty collected and calm about the proposal itself. I thought it would be a breeze. However, when the moment came, I found myself to be a lot more emotional than I thought. Joy, tears, laughter, and nervousness filled my lungs all at the same time. Seeing my beloved's reaction made these emotions ten times stronger when the moment came. I had rehearsed what I was going to say many times, but when the moment came, all the words got jumbled into a semi-coherent mess that I wasn't expecting. Nonetheless, it was perfect.
After the proposal, the main emotion I have to say is relief. Knowing that this part is over, and we can move on is quite satisfying. I look forward to our life together more than the events that represent it. But I know my fiancee is a dreamer, and these events are very important to her, so providing her with memories she can cherish is something I will always do.
Finding Cupid: Advice to other men trying to pull off the perfect proposal!
Shawn:
1) Plan in advance as much as possible. The earlier the better. This can't be emphasized enough.
2) Details really matter. She will notice all of them. The more personalized the better. Don't be afraid to steal ideas, but make sure its noticeable you put your own touch. Don't just buy a per-packaged idea and nothing else.
3) Make the proposal fit with the rest of your relationship. If you guys love to stay home and watch TV, don't take her on a carriage ride. Keep with the tone of what you love to do, just make it a spectacular version of it.
4) Record the whole thing.